SLEEPING ROMANCE – ALBA EUROPEAN TOUR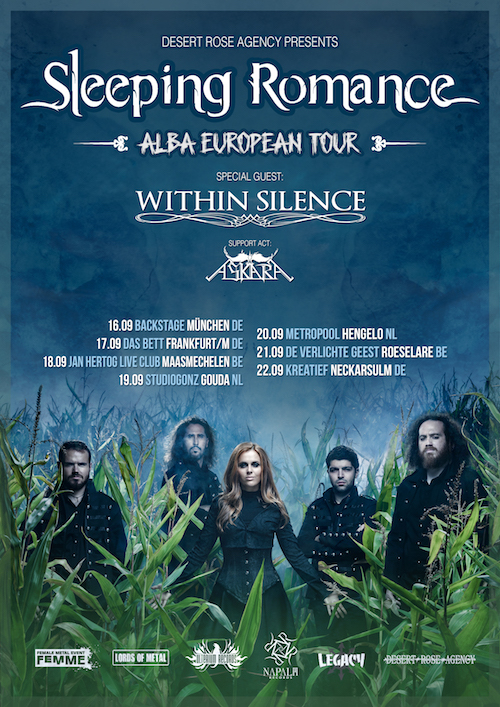 The Italian symphonic metal band SLEEPING ROMANCE will be touring Europe in September 2018 to promote their new album 'Alba' (NAPALM RECORDS). Since the release of the debut album 'Enlighten' (ULTERIUM RECORDS), SLEEPING ROMANCE has been working hard. At the end of 2013, the band went through Europe as a support for THEOCRACY, and the Italians immediately made a reputation. As a result, several tours soon followed, with the band gaining a foothold, especially in the Netherlands and Belgium. In 2016 SLEEPING ROMANCE did two shows (acoustic and heavy) during FEMME, Europe's largest female metal festival. It meant the final breakthrough for the Italians in The Netherlands and Belgium. The band was picked up by NAPALM RECORDS, which presents 'Alba' to a wider audience. In February 2018, SLEEPING ROMANCE went on tour through Europe with SERENITY and VISIONS OF ATLANTIS. Due to illness not all shows could be played. Concerts were also shortened. It's time for SLEEPING ROMANCE to take revenge and present 'Alba' correctly to their growing fan base.
With the Slovak melodic metal band WITHIN SILENCE, SLEEPING ROMANCE has found a strong special guest. The latest album 'Return From The Shadows' (ULTERIUM RECORDS) has been extremely well received by the press and fans. As a result of this success, WITHIN SILENCE can also be seen more and more in the Western European countries. Just like SLEEPING ROMANCE, WITHIN SILENCE has also toured Europe as support for THEOCRACY. In addition, the band performed at the largest metal festivals in Slovakia and the Czech Republic, sharing the stage with HELLOWEEN, WITHIN TEMPTATION and EPICA.
---
ASKARA The Swiss progressive gothic metal band ASKARA comes along as a support act. In their own country the band is working hard, and the tour with SLEEPING ROMANCE and WITHIN SILENCE is a great opportunity to seriously introduce themselves to a larger international audience.