LYDIA LUNCH & MARC HURTADO PERFORM SUICIDE AND ALAN VEGA SONGS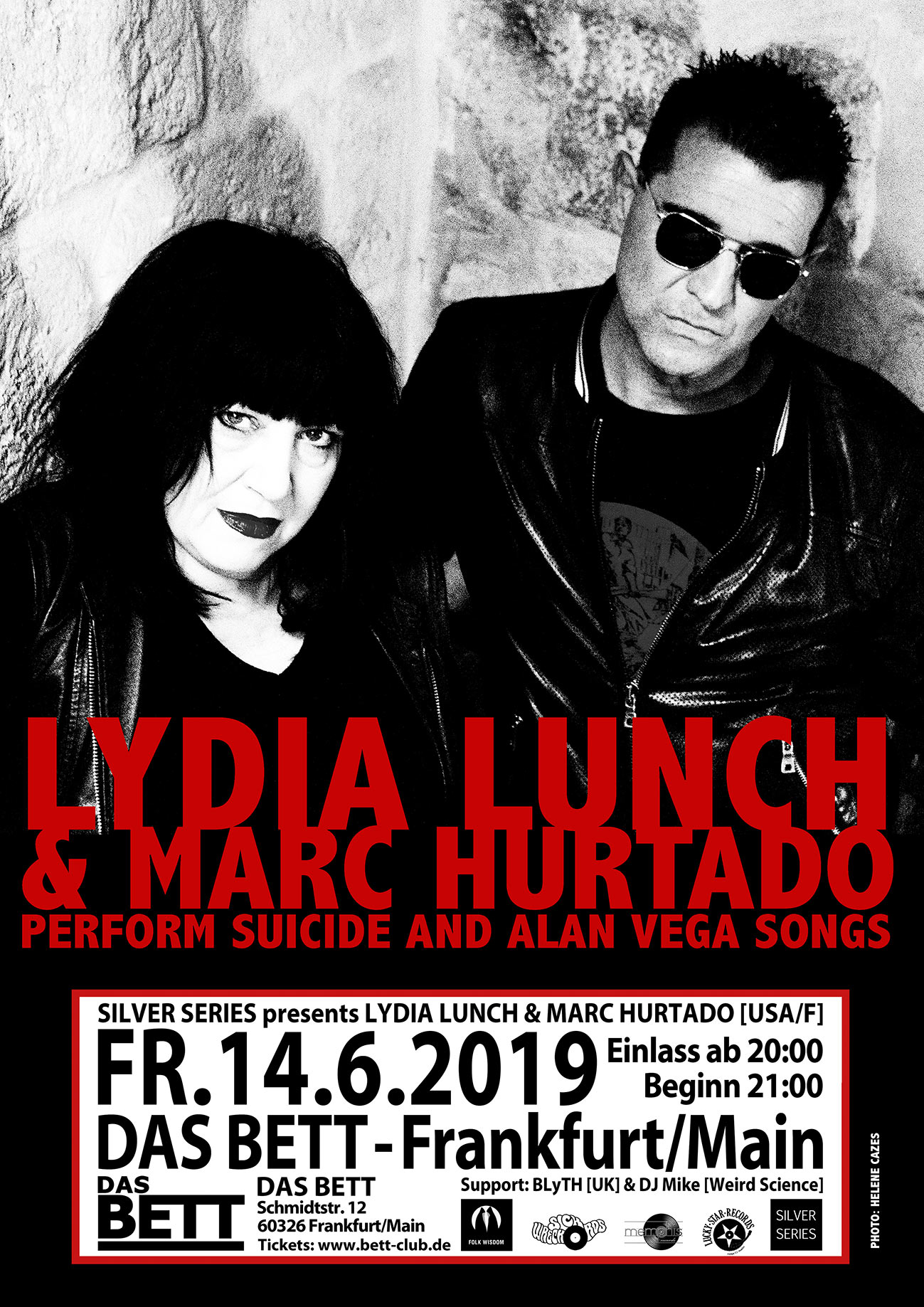 SILVER SERIES PRESENTS LYDIA LUNCH & MARC HURTADO [USA/F] PERFORM SUICIDE AND ALAN VEGA SONGS
Lydia Lunch has crossed paths with Alan Vega and Martin Rev of Suicide upon arrival in New York at age 16, late 70 SUICIDE The first show of which she attended was a real shock, a revelation on a new form of a concert, a total show, theatrical, free, violent. Since then, a close relationship, as much artistic than friendly, united them, Lydia Lunch performed on stage and on a record "Frankie Teardrop" by Suicide and she sang a duet with Alan Vega in the album SNIPER by Alan Vega and Marc Hurtado in 2010. Marc Hurtado, had already met Alan Vega and Lydia Lunch on his Etant Donnés 's RE-UP album Be in 1999 and he formed the project My Lover The Killer in 2013 with Lydia Lunch, with whom they recorded an album and play on stage. Today Lydia Lunch and Marc Hurtado join forces for this event around Suicide and Alan Vega songs, it will be a kind of sonic "Blitzkrieg" and a visual shamanic ceremony, where both artists will burn their souls in the volcanic heart of the music of Alan Vega and Suicide, concentrated to melt their performance in kaleidoscopic film INFINITE DREAMERS directed by Marc Hurtado dedicated to Alan Vega and Martin Rev. Lydia Lunch is a nomadic gypsy in eternal metamorphosis that almost lost her life for her art dozens of times in 35 years. Musician, writer, photographer and performance artist, she appeared in the New York music scene in 1977 with the project founder No Wave, Teenage Jesus and the Jerks. In search of inspiration and cooperation she worked with Karen Finley, Hubert Selby Jr, Nick Cave, William Burroughs or Virginie Despentes, she lived in New York, Brooklyn, New Orleans, San Francisco, Pittsburgh, Los Angeles, London. She has visited 656 cities to perform on stage for concerts, spoken word, installations in clubs, theaters and museums. Marc Hurtado is a musician, performer, poet, painter, producer and filmmaker who cofounded the French duo ETANT DONNES with his brother Eric in 1977. He has made more than 20 albums and 800 concerts around the world in places like Kitchen (New York), the Fondation Cartier (Paris), the Centre Pompidou (Paris), the Sonar Festival (Barcelona), the Atonal Festival (Berlin), or Transmusicales (Rennes). Apart from this duo and solo project Sol Ixent, he has collaborated with many cult figures including Alan Vega, Genesis P. Orridge, Michael Gira (Swans), Gabi Delgado (DAF), Z'ev, Philippe Grandrieux, Christophe, Saba Komossa (Delkom), Mark Cunningham (MARS), Bachir Attar and the Master Musicians of Jajouka. His films were screened in Beaubourg Paris, FID Marseille, the French Cinematheque in Paris, the Locarno Film Festival, Bafici Festivale Buenos Aires and most recently at the MoMA in New York, which also acquired his latest feature film "Jajouka, something good comes to you" in his collection.
---
375 C.E.G. [D] Neueste Deutsche Welle aus Frankfurt am Main
375 C.E.G.: Christina Drees & Matthias Vatter/FFM. Musik mit Vermona Orgel ET3, Korg MS-10 & MS-20, Ace Tone Rhythm Ace FR-1, WEM Copy Cat, Dynacord Echocord Super 76, Casio SK-1 & VL-1, Bass, Gitarre und Tape Loops.